Sacred Ground Dialogue Circle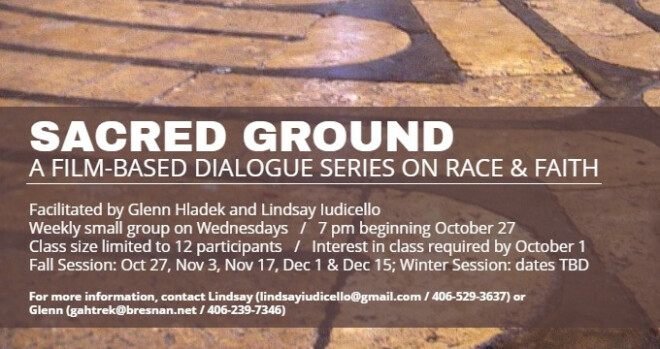 First Wednesday, Third Wednesday, from 10/27/2021 to 12/15/2021, 7:00 PM - 8:30 PM
Sacred Ground
There are few issues in American life more fraught than the role race has played in our nation's history. Racial disparities have roots in past policies, prejudices, and harms that continue to affect and structure life today. As part of an ongoing commitment to racial healing and justice, The Episcopal Church has created Sacred Ground, a film- and readings-based curriculum designed to walk through chapters of America's history with race and racism. The 10-part series focuses on Indigenous, Black, Latino, and Asian/Pacific American histories as they intersect with European American histories.
Beginning October 27th, Glenn Hladek and Lindsay Iudicello will facilitate a Sacred Ground Dialogue Circle. This group will meet over ten sessions on Wednesday evenings at 7 pm. The first five meetings will take place before Christmas (Oct. 27, Nov. 3, Nov. 17, Dec. 1, Dec. 15) and the second five sessions after the new year (dates TBD). Due to the discussion-oriented nature of this series, participation will be capped at 12.
The curriculum requires a commitment to come prepared and to, as much as possible, commit to all ten sessions. Expect several hours of reading/film-viewing between sessions. While most of the Sacred Ground material will be available online, there are two core books, Debbie Irving's Waking Up White and Howard Thurman's Jesus and the Disinherited, which supplement the online materials. Participants should plan to purchase these books; however, a Butterfly Grant has been approved that will provide funding for the books if an individual is unable or not interested in purchasing the books. We do not want the cost of the books to be a hindrance to participation. There is no cost to enroll in the class.
Finally, Sacred Ground is not about a political stance or converting anyone to a particular way of thinking. It's about listening, learning, and continuing to grow as beloved community. Please join us with an open and humble heart. To register for the class, please contact Judy at the Parish office with your contact information (phone, email, address). Lindsay or Glenn will contact you with the necessary information to register for the class. We would appreciate that you contact the office to indicate your interest by October 1, 2021. If you have questions regarding the program, please contact Lindsay ( or 406-529-3637) or Glenn ( or 406-239-7346). We are thrilled to be entering this important discussion with our Parish family.