Fall Festival, 10 am - 2 pm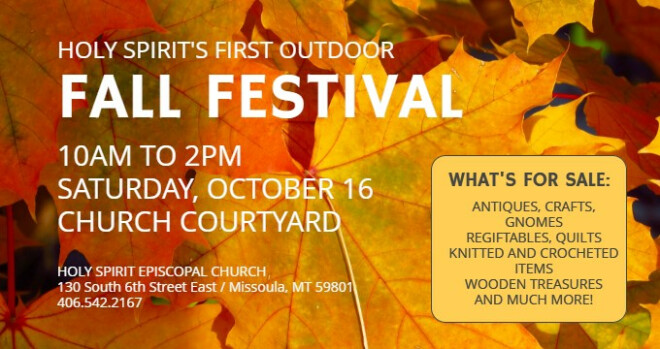 Saturday, October 16, 2021, 10:00 AM - 2:00 PM
A Fall Festival is Brewing
For four glorious hours - 10:00 a.m. to 2:00 p.m. on Saturday, October 16, Holy Spirit will hold its first outdoor Fall Festival. Not quite the Holiday Market. Definitely not a rummage sale. Because time is short, and this is a new endeavor, we need everyone's help and donations to make it successful. Outdoor tables will feature antiques, crafts, fall and holiday decorations, new or nearly-new regiftables, jewelry, gnomes, quilts, knitted and crocheted items, glassware, and Bob Wattenberg's wooden treasures. Please bring your top notch donations from 10 – 2 on Tuesday, and Wednesday, October 12, and 13 to the Parish Hall. We will also gladly accept your help throughout sale week and on sale day. Sorting, pricing, selling, mingling, shopping – all wonderful ways to enjoy the spirit-filled energy that is our church family.
Please no clothing/shoes, linens, art, toys, books, games, or Christmas lights.
Take time now to go through your fall and Christmas holiday boxes. Reconsider the "gifts" you've bought for someone for sometime, and consider donating them. How about gifts you've received but never used? Especially ones still in their boxes. Perfect for the festival. Consider each item's sales appeal. With limited space and time, each must say, "Please buy me." Circle Saturday, October 16, from 10:00 a.m. to 2:00 p.m. Bring your family, your friends, your neighbors to shop and enjoy what promises to be a super Saturday event. Questions? Contact Marva Gallegos at 406-546-1611 or email her at .