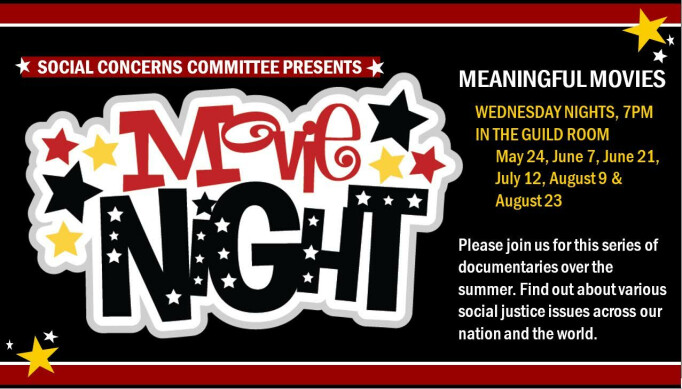 7 pm Meaningful Movie
Wednesday, August 09, 2017, 7:00 PM - 9:00 PM
Join us for "Meaningful Movies" this summer!
The Social Concerns Committee is planning a "Meaningful Movies" series of documentaries over the summer, so we can sit back, eat popcorn, socialize with our church family, and find out about various social justice issues across our nation and the world. Many of them will concern HSP's chosen focus of at-risk families and youth. Each documentary will be followed by a discussion led by one of the SCC members. So mark these Wednesday evenings on your calendar: May 24, June 7, June 21, July 12, August 9, and August 23.
Tonight's movie is selected parts of A Path Appears, the video based on the best-selling book A Path Appears: Transforming Lives, Creating Opportunity, by Pulitzer Prize-winning journalists Nicholas Kristof and Sheryl WuDunn.
A Path Appears follows Kristof and WuDunn as they explore the devastating impact of poverty in America, and the ripple effects that follow of gender-based violence and child abuse, sex trafficking and sex slavery. In their travels, they meet with abused women and girls, as well as inspiring activists, including an Episcopal priest in Nashville, who are creating effective solutions to gender-based oppression, transforming lives, and providing a road map for sustainable future change. The title of book and video is borrowed from Lu Xun, Chinese essayist, who wrote "Hope is like a path in the countryside. Originally there is nothing, but as people walk this way again and again, a path appears."
The movie will be shown on Wednesday August 9th, at 7 p.m. in the parish hall. Carla Mettling will lead the discussion afterwards.