9:30 am Summer Choir Rehearsal
Every Sunday, from 06/18/2017 to 08/27/2017, 9:30 AM - 11:30 AM
Join our Summer Choir!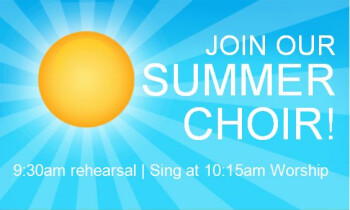 9:30 am rehearsal
Sing at 10:15 am Worship
All are welcome! Everyone who loves to sing is encouraged to come to church at 9:30 and meet in the choir stalls to sing a hymn together that will be sung at the offertory. No vesting, no processing - just coming up at the Peace, singing together, and returning to the pews. Anyone from rising second graders to retirees is welcome to join us; all that's needed is a love of singing! We'll sing only that Sunday's music so there's no need to worry about missing a rehearsal for a future song - we'll be singing week-to-week only. Summer Choir will continue throughout the summer.