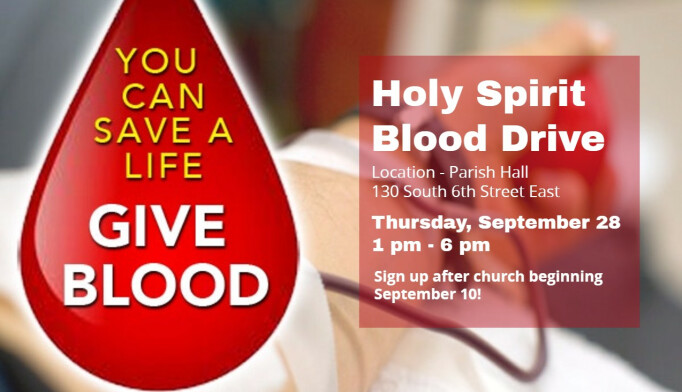 1 pm Red Cross Blood Drive
Thursday, September 28, 2017, 1:00 PM - 6:15 PM
| | |
| --- | --- |
| Contact: | The Rev. Anita Rognas |
Semi-annual Blood Drive at Holy Spirit September 28th
You can give a life-saving gift to someone using only about an hour of your time. The blood drawing itself takes only 15 minutes, after which there will be juice and snacks available to give you a boost toward replacing that blood. More than one-third of adults nationwide are capable of being donors, yet only about 8% actually take the time to do so.
We will be signing up donors after the 8:00 and 10:15 services on September 10th, 17th and 24th for the drawing on September 28th. Look for the sign-up sheets in the parish hall. There are 23 donor spots available between 1:00 and 6:15 PM on the day of the drawing.
Usually, men who are generally in good health and weigh 110 pounds or more can donate. Women who are 5'6" or taller have the same weight requirements as men. However, shorter women must weigh more: 5 '1" women must weigh a minimum of 133 pounds, 5'3" women must weigh a minimum of 124 pounds, and 5'5" women must weigh a minimum of 115 pounds. Young people between 16 and 18 years of age can sign up with an available parent request form.
The most frequent reasons for exclusion are for travel in certain countries and low iron (hematocrit count). If you are a regular Red Cross donor, you must allow 56 days between donations, so if you have donated blood after August 2nd, you will not be able to donate on September 28th. For answers to further questions relating to donating blood, call the Red Cross at 1-855-210-1278.
Volunteers are needed to help register donors and serve refreshments to donors afterwards. We also need some cheese and crackers plates. If you would like to volunteer some time or donate cheese and crackers, please contact Anita Rognas through the church office at 542-2167 or . Thank you.
Anita Rognas, Blood Drive Coordinator for the Social Concerns Committee for September