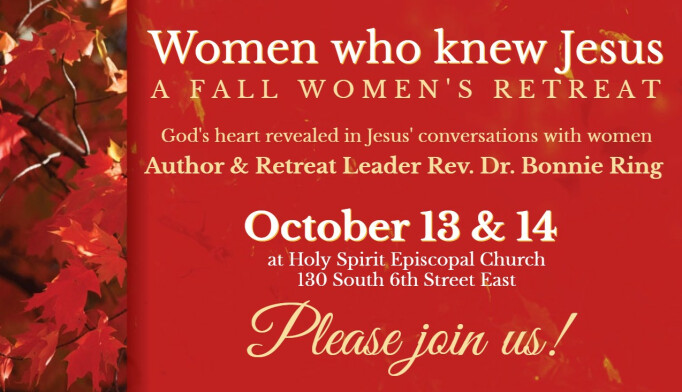 Women's Retreat
Friday, October 13, 2017 - Saturday, October 14, 2017
| | |
| --- | --- |
| Contact: | Gretchen Strohmaier |
| Cost: | $15.00 |
Women Who Knew Jesus: A Fall Retreat October 13 & 14
Retreat Details: Renovations are being made at Camp Marshall so this year's women's retreat will be held here at Holy Spirit. Gather with other women on Friday evening for introductions and a retreat warm up. Sleep at home and return in the morning for a day-long focus on the Women Who Knew Jesus led by author and retreat leader Reverend Dr. Bonnie Ring. After years of leading these retreats, Dr. Ring has written a book by this same title. Copies of her book will be available for purchase at the retreat.
Retreat Content: The women who encountered Jesus were forever changed by their experience. We invite you to spend a weekend with some of those women and let them inspire and nourish you. By allowing these Biblical women to speak with their own voices, participants will discover their similarity to those women, uncover the richness of their own stories and deepen their relationship with Jesus.
Her community regarded the hemorrhaging woman as unclean. By taking a risk in public, she was healed by touching Jesus's robe.
After the Samaritan woman met Jesus, she gathered the same townspeople who had shunned her to meet the One who "knew everything" about her.
Mary and Martha welcomed Jesus into their home. While Martha busied herself preparing dinner, Mary listened attentively to Jesus, like the male disciples.
Mary Magdalene met Jesus at the empty tomb and he charged her with telling the disciples the Good News of his resurrection.
Saturday's schedule includes the retelling of the Gospel accounts of these women's encounters with Jesus, followed by guided meditations, dyad and small group discussion, alone time and journaling and worship.
Friday October 13th 7:00 to 9:00 pm. Saturday October 14th 8:30 to 5:30. *Higgins Avenue will close by 9 a.m. for the Homecoming parade. Make sure to be here by 8:30.
Register in the parish hall after services on Sundays, via phone at the church office 542-2167 or on the website (see form below).
Fee: $15.00. Registration includes snacks, drinks and lunch on Saturday. Please pay at the church office or at the registration table on Sunday, Sept. 10, Oct. 1, or Oct. 8.
Contact Gretchen with questions .