New Creation Care Ministry
As Christians, we are asked to care for creation and to be good stewards of the Earth. Genesis 2:15 The Lord God took the man (and woman) and put them in the garden of Eden to work it and keep it.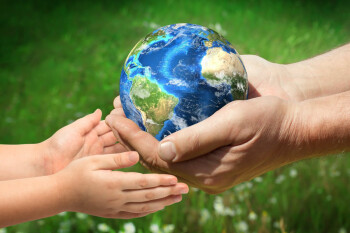 Today, as the population grows and spreads across the Earth, we see an Earth under stress. Climate change, pollution, loss of habitats, endangered species and a disconnect from Nature are just some of the indications of this stress.
As gardeners in this Eden of Montana, Holy Spirit is taking a more active role as Creation Caretakers. If you are interested in being a part of this new Creation Care ministry, please contact Kent Watson - 406-721-3500 to join the discussion on how this ministry will take shape.
Some ideas being considered include:
Looking at our operations at Holy Spirit with the goal of becoming more sustainable;

Providing information and resources to members to help us live more sustainably at our homes;

Becoming more active in our communities by addressing issues of climate change and other environmental issues; and
Providing fun opportunities to learn about and explore the wonderful natural world we live in.
The Episcopal Church has many resources to help us. You can check out their Creation Care pages at https://episcopalchurch.org/creation-care and https://episcopalchurch.org/OGR/creation-care. Initially the plan is to meet monthly. You are welcome to choose your own level of involvement. We are fortunate to live in one of the last best places. Join us in helping to keep it that way.