A Note from the Rector - April 27, 2020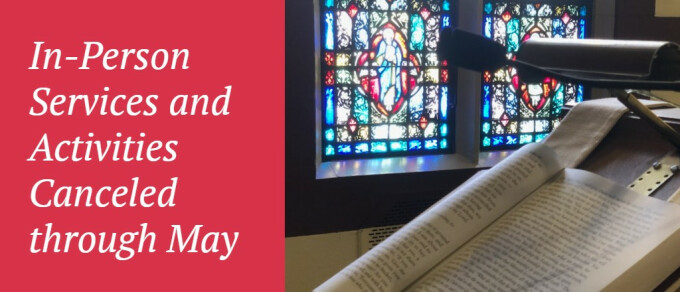 Greetings friends,
Governor Bullock has announced the initial easing of stay at home policies to allow a few more businesses to begin opening for business in one form or another. Churches were included in Phase 1 openings with several restrictions. Bishop Marty has been keeping everyone informed about how this might occur, with specific rules for example about the wearing of masks, spacing, cleaning of all surfaces before and after gatherings, keeping track of who is present, and no sharing of communion. Think of restaurant requirements to get a picture of what would be necessary. It will be easier for smaller congregations than larger ones to begin this process, that is sure.
After conversation with the bishop and clergy of the diocese, and our wardens and staff, I have decided to keep our church buildings closed a bit longer. While we would all like to be able to gather again, opening now seems less safe, less welcoming, and less intimate than continuing for a time with virtual worship. It also seems prudent to allow the re-opening of the wider community in as gradual a way as possible. Lastly, it can't hurt to continue to improve our abilities to worship remotely together, knowing that when we do re-open, there is always the likelihood of a resurgence of the virus that would require us to go back to staying home and worshipping as we are now.
Know that we miss seeing you and all that being physically together as community brings to one another. Thank you for all the various ways that you are sacrificing for and lifting up the wider community as we all navigate our way forward with God's help. The staff and I are especially grateful for your participation in worship, for your willingness to learn new technological skills and your patience with all of us as we seek to improve week to week. Please continue to pray for one another and remember all those struggling with all the impacts that continue to be revealed during this difficult time.
May God bless and keep you. May you know the light of God's grace upon your face and in your lives. And may God's peace reside in you, now and always.
Faithfully with you on the way,
Terri+