Diocese of Montana Newsletter, February 2019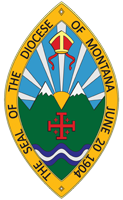 Standing Committee Updates
The Standing Committee continues to meet weekly by video-conference and once/month in person. Members are assigned to all of the committees and councils of the church as a liaison from and to Standing Committee, for the primary purpose of sharing information. We continue to oversee and be responsible for the various aspects of the Search process for our Tenth Bishop.

We welcome The Rev. John Wells Warren as the new Rector of St. James in Dillon; and The Rev. Carolyn Rosen as the new Rector of St. Stephen's, Billings.

We are delighted to announce the ordinations of two individuals to the priesthood in February: The Rev. Angelique "Angel" Bolling on Friday, February 22 at 1 pm at Holy Trinity Church in Troy; and The Rev. Gretchen Strohmeier on Saturday, February 23 at 1 pm at Holy Spirit Church in Missoula. Both of these women will be ordained by The Rt. Rev. Jim Waggonner, Eighth Bishop of Spokane (retired). All members of the Diocese are invited to attend these joyous events.

Standing Committee Updates
Bishop's Search Updates
Around the Diocese
2018 Grant Update: Christmas Gifts for Missionaries
Camp Marshall: We're hiring!
Finance Corner, by Barb Hagen
Northern Rockies Institute of Theology: Educational opportunities
Episcopal Relief & Development: Matching gifts
Clergy Conference, Camp Marshall, May 7-9, 2019
Ordinations, February 22 and 23
Grace Camp Women's Quilt Retreat, April 25-28
Labor of Love Weekend, Camp Marshall, April 12-14
Ecumenical events
Deacon News
St. Luke' and St. Stephen's, Billings: Christian Formation Minister opening