Diocese of Montana Newsletter, January 2018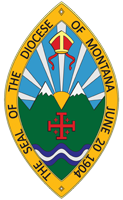 Bishop's Corner
The Rev. Canon Gary Waddingham has had a scholarly article on "the mercy seat" published in The Encyclopedia of the Bible and its Reception. Congratulations!

The Rev. Jannet Knox was recently recognized in the local Sheridan paper for her service to our country during the Korean War, her community and her church. Thank you Jan!!!

****Clergy Conference, April 17-20, 2018 has been extended by one night so the consultant, Ann Hallisey, can meet with the clergy on Friday the 20th regarding the Search****.

Click here
to read the complete newsletter, including the following:
Bishop's Corner
Around the Diocese
Restorative Justice: A Community Conversation
Reflections on "The Star"
Free Items
Reflections on Holy Cross, Life-Giving Tree
Camp Marshall News
Ecumenical
Treasurer's Corner
Episcopal Relief & Development
Website Reminders