Diocese of Montana Newsletter, January 2019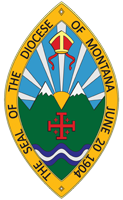 Bishop's Search Updates
Nominating Committee Conducts First Bishop Candidate Screening
Submitted by Hope Stockwell, St. Peter's, Helena

The Nominating Committee gathered in Livingston December 6-8 to conduct its first screening of candidates for the Tenth Bishop of Montana. While confidentiality requirements prevent the committee from disclosing the total number of applicants, the committee is pleased with the number of applications received by the November 15 deadline. Thank you to everyone who provided suggestions, referrals, or nominations!
Click here to read the complete newsletter, including the following:
Bishop's Search Updates
Around the Diocese
Montana Association of Christians: MAC Day at the Legislature
Camp Marshall
Article by David Hoag, Trinity Episcopal Church, Ennis
Finance Corner, by Barb Hagen
Faith, Science & Climate Action Conference: Reflection II, by Heidi Jones Magee
Episcopal Relief & Development
A 5-Week Civil Discourse Class at Your Church: It's Possible! by The Rev. Gretchen Strohmaier
Ecumenical: Faith and Iman Conference, Ecumenical Advocacy Days, 2019 Week of Prayer for Christian Unity
"A Christmas Offertory," by The Rev. Bradley Wirth
Advocacy Policy, Holy Spirit, Missoula
Christian Formation Minister, St. Luke's and St. Stephen's, Billings