Diocese of Montana Newsletter, November 2018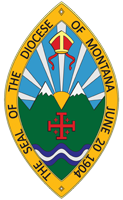 Bishop's Corner
The Rev. Sue Eades retires as of November 11th. She has been a good, wise, and faithful priest, having served most recently as rector of St. James', Dillon. She is moving to Lewistown, MT.

The Rev. Dr. Dennis Campbell has retired to Missoula. He has served in a variety of parishes, taught congregational development at Sewanee Seminary, and served as Canon to the Ordinary in Arkansas. He will be doing some part-time ministry with St. Paul's, Hamilton.

Rev. Gary Waddingham published two more entries in de Gruyter's (Berlin) Encyclopedia of the Bible and its Reception. They are "Molech/Moloch" and the "Messianic Banquet."

Don't forget to turn back your clocks one hour on November 4th.
Click here to read the complete newsletter, including the following:
Bishop's Corner
Around the Diocese
Farewell letter from Bishop Brookhart
Bishop Brookhart's newest book, The Language of Love
Farewell letter from Bishop Carol Gallagher
Brookhart Scholarships
Greetings from Camp Marshall
2019 Camp Marshall Sessions: registration opens Nov. 1
Church of the Incarnation, Great Falls: documentary about at-risk students
MAC Connect 2018, Saturday, November 10, Helena
How to receive the Eucharist
Books for sale
Finance Corner, by Barb Hagen
Ecumenical
Episcopal Relief & Development - Matching Grants
Bishop Search Update
Thank you
Website Reminders
Bishop's Scrapbook