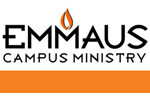 Emmaus Campus Ministry News, Aug.- Sept. 2017
Pastor John Lund:
396-4974, www.ecmum.org
Facebook: Emmaus Campus Ministry at the University of Montana
New Student contacts needed: Please let Pastor Lund know of UM students who might be interested in connecting to ECM. Names and phone numbers are great!
Confluence (Sundays starting Sept. 10): Confluence is a faith community open to all ages and perspectives and will meet from 6-8pm on Sundays in the Fireside room at the UCC Church. Includes a meal, discussion, and spiritual practice. Topics for this fall include:
Our Purpose and Need for Community
The Next Reformation—Does Church Matter?
Beyond "Co-Exist": Discovering the Richness of Interfaith Relationship
Cutting through the Chaos: Spiritual Grounding for Social Justice.
Leadership, Faith and Social Action (Wednesdays starting Sept. 6): A community of emerging leaders who are ready to engage in the social needs and issues of our day. Includes study, discussions, event planning, leadership training, peer support, and vocational imagination. (7:00-8:30 Wed. nights at Emmaus House)
Flathead Lake Sailing Retreat: Fri-Sun., Sept. 8-10: Camping at Flathead Lutheran Camp and a full day of sailing on Flathead Lake. Cost is $30.
Oktoberfest Party and Fundraiser! Emmaus Campus Ministry Oktoberfest Fundraiser: Sunday, October 29th at the Home Arts BLDG, Fairgrounds. Evening will include great food, people, live music, both silent and live auctions, and polka dancing and more. We are now seeking sponsorships from local businesses as well as donations for live and silent auction items.
Calling for Cookies: We are looking for cookie donations between Aug. 30 and Sept. 10 to hand out and recruit students on campus. Please let Pastor Lund know if you are able to help!
Looking for dinner cooks: This year we will be offering meals every Sunday nights and would love to have occasional help. We can cover the cost of food as needed.
Musicians needed: we are looking for piano, guitar, violin, flute, or other instruments for our Sunday night worship and our traveling monthly Emmaus Outreach worship team. All ages welcome!!
Looking for Thrivent Action Grants: we currently have many projects and events coming up this fall that will be perfect for Action Grants. If you are a Thrivent member and are willing to give one of your two grants to Emmaus, we will put it to good use! Please call Pastor John at 396-4974.