Emmaus Campus Ministry News, October 2017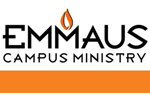 Pastor John Lund:
396-4974, www.ecm.org
Facebook: Emmaus Campus Ministry at the University of Montana
Every Sunday: Confluence (6-8pm at Emmaus): open to all ages and perspectives and includes a meal, discussion, and spiritual practice. October topics include: Living in a global world, Why did the Reformation matter, How is church reforming today? Find us on Facebook at Confluencemissoula.
Every Wednesday: Salt and Light (7-8pm at Emmaus): Join us for a time of grounding, questioning, and important conversations about community, faith, life and vocation. Desserts, friends, and upcoming events to follow.
Saturday, Sept. 30th, 8:30-4pm: Habitat for Humanity Work Day: We have a good handful already, but need a few more to make a full team. Meet at Emmaus at 8:30am. Lunch included.
October Book Read: Standing Alongside Americas Muslims, SALAM, invites you to join us in a community read of Out of Darkness into Light: Spiritual Guidance in the Quran with Reflections from Jewish and Christian Sources co-authored by Ann Holmes Redding. Please feel free to join us for any or all of the discussions of Out of Darkness into Light as follows:
Part One: Spiritual Guidance; Thur. Oct. 5th 6:30 to 8:30, Jeannette Rankin Peace Center
Part Two: Mysteries of Life; Thur. Oct. 12th 6:30-8:30, Emmaus House
Part Three: The Path of Surrender; Thur. Oct. 19th 6:30-8:30, Har Shalom
Final Discussion & Potluck; Thur. Oct. 26th 6:30 to 8:30, St. Paul Lutheran Church
Sun, Oct. 1: Confluence (6-8pm at UCC church): The power of Walking with each other in a Global World: ELCA Young Adults in Global Mission staffer Jessica Roit with join us and share stories and perspectives from the YAGM training and her own of going abroad this past year.
Sun, Oct. 22nd, 7pm at the Roxy: Rick Steve's Luther and the Reformation; an open screening for all of our partner churches to come and remember and celebrate the events of 500 years ago. Panel discussion to follow.
Mon, October 23rd, 6-8pm: Communicating Climate Change: presentation and workshop offered by Faith and Climate Action Missoula. Join us for a meal, learn proven strategies for communicating effectively about climate change, and consider how we can faithfully and authentically use these strategies to inspire action in our own contexts. We'll also hear from community members about opportunities to put concern for creation into action today.
Sunday, October 29th, Emmaus Campus Ministry Oktoberfest Fundraiser: 5-8pm at the Home Arts BLDG, Fairgrounds. The evening will include great food, people, live music, both silent and live auctions, and a Reformation team trivia contest. We are now seeking sponsorships from local businesses as well as donations for live and silent auction items.
Mon, Oct. 30: Reformation joint worship service between Roman Catholics and Lutherans at the amazing St. Helena Cathedral in Helena. Guest preachers include the regional bishops of both denominations. We are taking a bus, or two, from Missoula with Catholics and Lutherans from the different churches. Cost is $20 and will include dinner. Who wants to go?
Wed, Nov. 1st: Diverse U Together Banquet: 6pm in the UC Ballroom with our guest speaker Ann Holmes Redding as the keynote speaker. All students, church folks, and community members welcome to join!
Fri-Sun, Nov. 3-5: Fly Fishing, Beer Brewing and Bread Making retreat at Flathead Lutheran Bible Camp. Come for one night or two for this time of relaxation, friends, food, and grounding.
Thurs., Nov. 9th, 5-10pm, UCC church: All Area Middle School Youth Event: "We are in This Together!" This event will be hosted by our partner churches, Emmaus students, and FLBC staff and will include dinner, games, service projects, deeper conversations and a Bible study, and a camp style worship. All middle school youth are invited to join!
Book Drive for the Missoula County Jail: As part of her masters of social work practicum in the county jail, Kathleen Heiskell is doing a paperback book drive. They are looking for books that are inspiring, hopeful, moving, or otherwise appropriate for the incarcerated community. Books can be dropped off at Emmaus.
Looking for dinner cooks: This year we will be offering meals every Sunday nights and would love to have occasional help. We can cover the cost of food as needed.
Looking for Thrivent Action Grants: we currently have many projects and events coming up this fall that will be perfect for Action Grants. Please call Pastor John at 396-4974.