Mission to Mandalay: A Service/Learning Adventure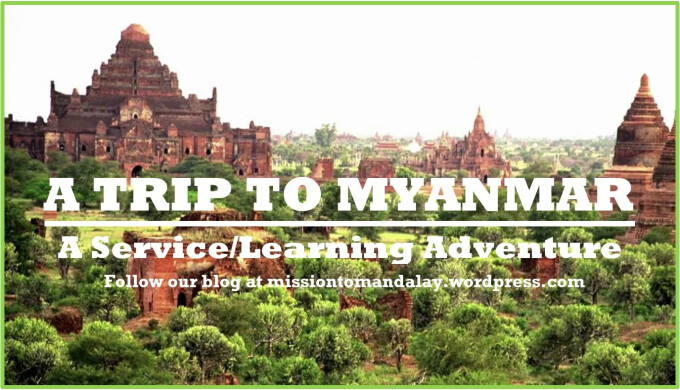 Mission to Mandalay
What was once a distant dream is about to become reality! In just three weeks, 16 volunteers, all but two of them from Holy Spirit, will fly to Myanmar on a three-week teaching mission. Visas in hand and arms a bit sore from vaccinations, the travelers board their plane on the afternoon of Oct. 20 and arrive in Yangon, Myanmar's largest city, in a mere 35 hours. After an overnight in Yangon and a brief visit to the famed Shwedagon Pagoda the next morning, the group flies to Mandalay in the center of the country. There, the volunteers will disperse in groups of four to four different monastic schools. Two are very rural, about 3 hours south of Mandalay; the other two are much closer to Myanmar's second-largest city.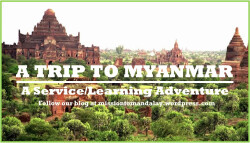 The task of the volunteers is to help teachers adopt a method of teaching English, in English, to young students. Using an approach rich in songs and games, a sea change from the traditional lecturing and rote memorization, the group hopes to model a more effective method of English teaching. Working in teams of two, the volunteers will teach for four hours per day. Studer Trust, the NGO that Holy Spirit is working with on this project, builds schools and trains teachers in Myanmar. It is the same non-profit that Holy Spirit raised more than $12,000 for last year, to help six high school girls pass their matriculation exams and attend college. It was the work on that fundraiser that led to parishioners' interest in going to Myanmar and doing some meaningful work to help improve what has been an abysmal education system neglected by a military junta for decades.
There's some fun built into the trip as well. After they have completed their teaching stint, the volunteers will go on a four-day sightseeing trip by car, train and riverboat into the Shan Hills northeast of Mandalay. A few of the volunteers will stay on to see other sights. Most travelers, however, will return to Missoula on Nov. 9. Holy Spirit volunteers include Bob Deaton, Carla Mettling, Kathy and Charlie Swannack, Glenn Hladek, Karen Orzech and Lance Collister, Kathy Newlin, Keith Kuhn, Lani Brewer, Nancy Errebo, Pat King, Patti Beckley and Clem Work. Also part of the group are Nancy McCulloch of Missoula and Libby Call of Boston.
Group members will be contributing to a blog—when there's electricity, that is! The address is missiontomandalay.wordpress.com (just test posts on there now!)