Our Summer Courtyard Sale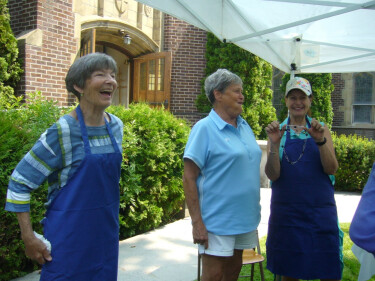 It's challenging to try something different. It takes a lot of faith, but that's exactly what came to pass on Saturday, July 10, in our church courtyard. A one day, "Not your Mother's Rummage Sale" that turned into a most successful Holy Spirit fund-raising event. Chairperson Marva Gallegos had her crews there early Saturday morning. Tables and canopies brought from homes. Racks and racks of donated boutique, name-brand clothing and purses. Boxes and boxes of sorted and priced donations. Beautifully displayed glassware, kitchenware and vintage. Books to satisfy every reader imaginable. A jewelry area that stopped shoppers in their tracks. Tools and electronics. Sportsware and bongo drums. Small furniture and pet strollers. All in great condition and at Missoula's best prices.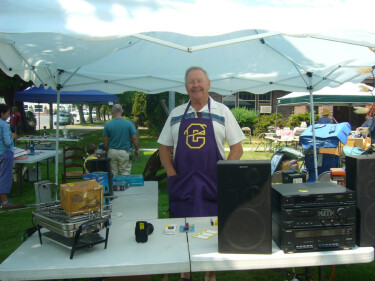 Shoppers danced up 6th to the sound of our noontime accordion music - complete with a tip jar, purchased and ante-d into by shoppers themselves. Holy Spirit workers in blue aprons assisted hundreds of shoppers from 8-3 who couldn't thank us enough for the sale. We thanked them, too, and we sincerely thank you. Each donor. Each weekday and Saturday volunteer. Each customer. Each of you who made this first-ever event a not-to-be-forgotten one. Faith played out perfectly, and next year's summer sale is already being planned.
- Betsy Holmquist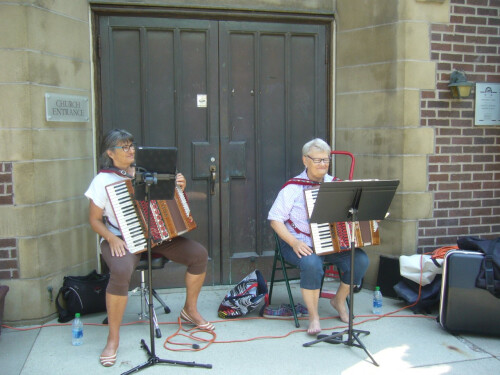 As you think about donations for next year, keep these guidelines in mind: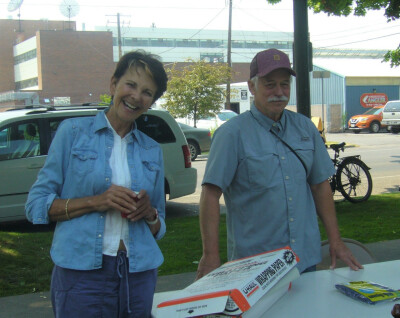 ALL donations must be in tip-top condition.
Remember: Even Goodwill doesn't want your broken toaster!
Accepted Donations Include:
Upscale clothing and accessories. Quality winter coats and jeans.
Vintage and primitive items in good condition.
Jewelry.
Quality paperback and hardback books.
NO manuals, DVDs, CDs, toys, puzzles, games, seasonal decorations, or linens.
Quality kitchenware, dishes, working small appliances, and electronics.
Quality smaller sporting goods.
Disposing of unsold items has become nearly impossible and expensive.
Call or email Marva Gallegos at 546-1611 ( ) or Betsy Holmquist at 728-8546 ( ) if you have any questions.