Children in Worship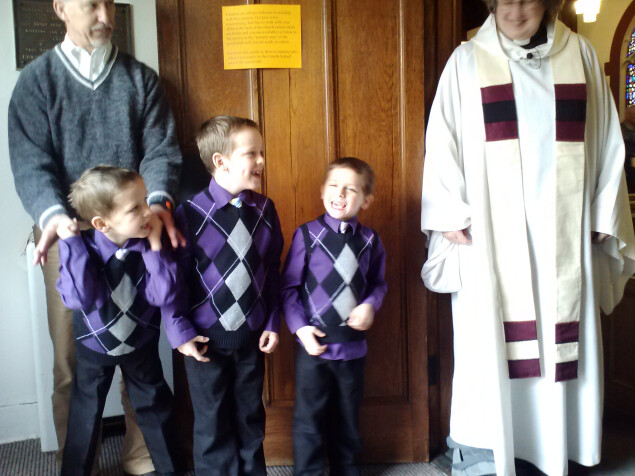 Children are an integral part of the life of Holy Spirit and are always welcome at all of our services. We invite you to bring your children with you to church. Adults may question the wisdom of including children in worship. It is true that they may sometimes distract those around them and distress parents by their behavior. In spite of this possibility, as members of the family they are needed by all of us to complete the circle at God's table. Worship is one of the basic ways people learn what it means to be Christian. Children learn by worshiping with the congregation. They learn they belong to Christ and are welcome in the Church. They learn to know the Lord's Prayer and other parts of the liturgy from memory. They build a fund of memorable, shared experiences of Christian community against which they may draw when they are older. They are enriched by the beauty of music and art as expressions of praise and as human responses to God. They hear stories from the Bible read and interpreted and begin to see Christian worship as one place where God may speak to them. They witness the drama of Baptism and Eucharist as signs of God's kindness and favor. They discover that they are valued as persons by God and by the people of God at church. Bringing children to worship may not always be easy, but it is an essential part of their growth in Christ. Learn more about our children's programs.
Church School
Our Church School classes for ages preschool-9th grade take place during the 10:15 service, September-June. The children learn Bible stories and experience their own children's church together, then go to grade-level classrooms. During children's worship, a collection is taken. Last year the older children chose where to donate the collection, and purchased several animals for Episcopal Relief and Development. Once a month the children come into "big church" and participate in the service, including serving as readers, intercessors and ushers. Middle-school and high-school age children, as well as adults, serve as acolytes.
Nursery
We provide a nursery for infants and toddlers if you find having your child with you distracts you from worship. Still, we encourage their presence in worship as much as you are comfortable. There are books and toys available in a basket under the table at the back of the church, and in the parish hall there is a rocking chair in a quiet corner where you can still listen to the service over the speaker system.
Our nursery workers and church school teachers are thoroughly trained and certified in the Safeguarding God's Children program. We invite parents to leave their cell number in the nursery so a nursery worker can contact you via text message, if needed, during a service.