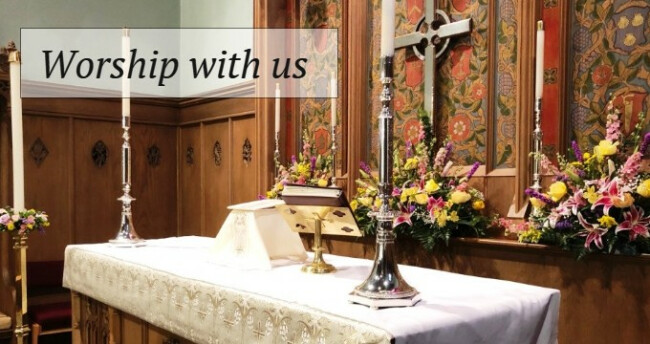 Sunday Worship
Read the service leaflet for Sunday, April 18
Watch the Sunday, April 18 service (direct link)
Watch on the church YouTube page here. The service will be available by late afternoon or early evening on Sunday.
Permission to reprint, podcast, and/or stream the music in this service obtained from ONE LICENSE with license #A-735459. All rights reserved.
Regarding Re-Opening for Worship
There will be one in-person service this Sunday at 10:15 am, and Eucharist will be celebrated. Please note that we are not able to offer live streaming of worship just yet. We will have the service recorded and uploaded on YouTube by late afternoon or evening. This will change once our technical contact is able to address a few specific needs unique to the Sanctuary area, a few weeks later.
Protocols are: wear a mask, maintain 6ft social distancing, and use hand sanitizer at door or in the pews. A household may sit together, of course. (There will be a sign-in sheet at the entryway to be used for contact tracing communication should someone have a positive Covid test days after). Nancy Cooper will be at the organ with up to 4 choir members, masked and spaced, to offer music. Please, no hymn singing by the congregation just yet.
When limited capacity is reached in the Sanctuary, please go to the Parish Hall. When capacity is reached there, please understand you may not get in this time. The Eucharist will be distributed at the end of the service in the Courtyard by the clergy starting about 11:15 am or so until about 12:30 pm, bread only, received with the sharing the Post Communion Prayer. Those who are not able to gather for in-person worship are encouraged to come for this.
While we will provide paper copies of the worship service, we encourage the continued use of electronic devices (tablets, cell phones) to access the worship leaflet via wireless connection. It is another way we can live out the good stewardship of our resources whenever possible.
Thank you for your patience and understanding as we enter another transition time. We are still on pilgrimage and we have been building resiliency and the ability to adapt for over a year now and the Spirit continues to guide us.
Faithfully with you on the way,
Terri+
Altar Flowers
Flower donations are always welcome. You can donate to the altar flowers by calling Lani Brewer, or the church office at 542-2167. A minimum donation of $30 is requested. Flowers can be given in honor of or in memory of loved ones, or in thanksgiving for a special event in your life. Please let us know and the dedication will be printed in the Sunday bulletin.