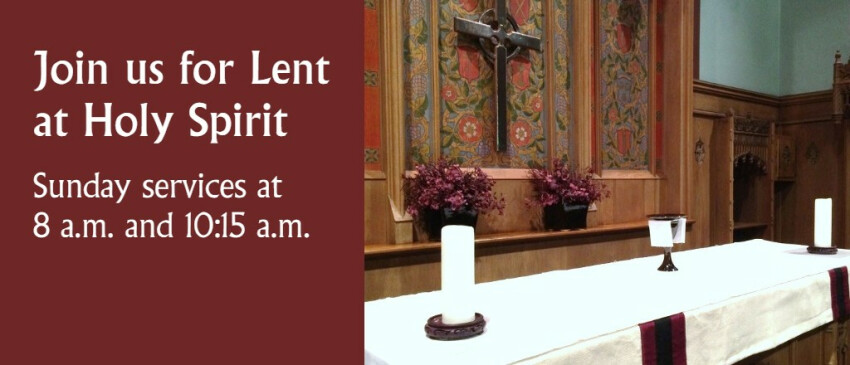 Resources for Lent
Lenten Program 2019 - Where Two or Three are Gathered: Reflections on Community

Join us for our five-week Lenten series entitled, Where Two or Three are Gathered: Reflections on Community. Each Wednesday evening during Lent, starting on March 13th, we'll gather for a potluck, hear some short reflections from a speaker, and have some time to think and discuss together in small groups, before closing with Compline. Our topic, community, lent itself to this change in format. Our hope is that over these five weeks of listening and sharing, we may continue to build one another up in faith.
Our themes:
Community: An Entry Point
Community: Based in Scripture
Community: Experienced in Worship
Community: Greater Together
Community: The role of the Holy Spirit.
Please join us for the potluck supper in the parish hall at 6:30 p.m. Childcare will be available starting at 7 p.m., and the program/discussion will begin at 7:15 p.m. in the parish hall. Information about what to bring will be posted in the Sunday bulletin and in the Spirited Times. Beverages will be provided by the church. We plan to be finished for the evening by 8:30 p.m.
5 Marks of Love: Living Life Marked as Christ's Own

This six-week journey of reflection on the Anglican Mark of Mission is now available as an anytime series for individuals and groups. Observe and reflect on the ways in which the Divine Life expresses itself in and through us; individually, and in our faith communities, as well as in the world around us. Each week will explore the Anglican Marks of Mission (Tell, Teach, Tend, Transform and Treasure) through videos, questions, and exercises designed to help us speak more clearly and act truthfully, motivated always by hearts marked by God's love.
Consider downloading this free resource for Lent, provided by a collaboration between Virginia Theological Seminary and The Society of Saint John the Evangelist. It is available at https://www.ssje.org/5marksoflove/.
If we are "marked as Christ's own," what are the "marks of love" that characterize the Divine Life abiding and at work within us? In this six-week series we will be examining and reflecting on the ways in which God's Life and God's Mission express themselves in and through us.
Subscribe to receive the series' video meditations from the SSJE Brother directly in your inbox or view the videos online. Download the accompanying workbook with suggested activities and reflection questions.
The Word in the Wilderness: A Poem a Day for Lent and Easter by Malcolm Guite

Order this book online or pick up a copy in the parish hall or church office. Poetry cannot be read quickly, and in asking to be savored, it begins to change the way we think and see. This collection of poems--one for every day from Shrove Tuesday to Easter Day--enables us to turn aside from everyday routine and experience moments of transfigured visions as we journey through the desert landscape of Lent and find refreshment along the way. Following each poem with a helpful prose reflection, Malcolm Guite has selected from classical and contemporary poets, from Dante, John Donne and George Herbert, to Seamus Heaney, Rowan Williams and Gillian Clarke, and his own acclaimed poetry.
Lenten meditation booklets and coupon booklets
Please help yourself to the 2019 Lenten Meditation booklets on the table at the back of the church and in the parish hall, as well as the 2019 Lenten Coupon Booklets from our friends at the Lake Missoula Clericus.
Each of these materials offers opportunities to enrich our journey through Lent through prayer and reflection, enhancing our awareness of the many blessings in our own lives and guiding our discovery of how we can improve the lives of others. Proceeds from our Lenten practice will go to Episcopal Relief & Development's Global Needs Fund.