Join us throughout the Lenten season for Sunday worship as well as an array of special services and programs.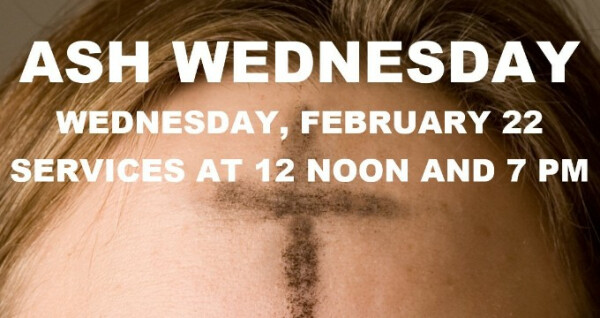 Ash Wednesday: The First Day of Lent - February 22
Liturgy of Ash Wednesday
12 noon and 7 pm in-person worship
12 noon service will be livestreamed on our church YouTube channel here.
Ash Wednesday marks the beginning of the season of Lent, a time of fasting, prayer, self-examination and preparation for the Easter Feast. Join us for our in-person services at 12 noon and 7 p.m. at the church with the Imposition of Ashes and Communion.
Read the Ash Wednesday service leaflet
Watch the livestreamed Ash Wednesday service, beginning at 12 noon on February 22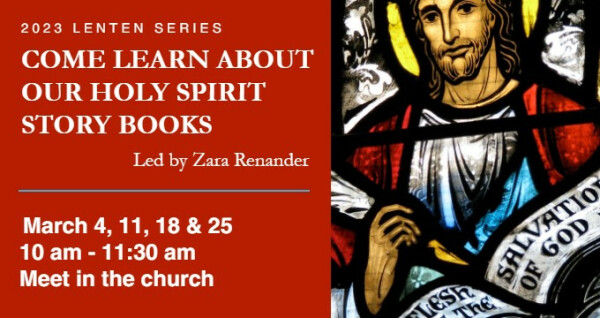 Come Learn about Our Stained-Glass Story Books.
A Holy Spirit Story Book
The stained-glass windows of Holy Spirit are a major art installation in Missoula. In the Middle Ages, the stained-glass windows of cathedrals were used to teach Bible stories to the congregation. Today, are they decorative art or a story book or both? Have you ever been curious about these windows and their luminous figures? Enrich your worship experience by learning what they have to teach us.
For four Saturday mornings in Lent, you're invited to explore a few of their stories, significance, and symbols as we wonder about the place of these light bearers in our own lives today. Join us on these Saturdays in March: 4th, 11th, 18th, and 25th from 10:00 - 11:30 a.m. Each session is a stand-alone presentation which focuses on a different window. You are welcome to attend any or all of these Lenten programs. Stay after if you can for a soup and bread meal, provided in the parish hall. Please let the church office know which Saturdays you'll be joining us so we can be prepared with plenty of soup.
About Our Speaker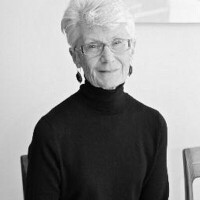 This year's Lenten series will be led by Zara Renander. Zara, a Hospice Chaplain and member of our parish, began worshiping with us during the pandemic. She holds a B.A. in Religious Studies and an M.A. in Theology. Zara raised her children in Great Falls, MT and then moved to Minnesota and eventually to Alabama. When her husband became ill, they moved back to Montana to Missoula to be close to family. We are thrilled to have Zara as a part of our worshiping community and to learn from her varied passions and interests.
Other Lenten Resources
Between Midnight and Dawn: A Literary Guide to Prayer for Lent, Holy Week, and Eastertide, by Sarah Arthur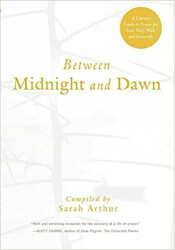 Join poets and novelists from across the centuries as you travel through the liturgical seasons of Lent, Holy Week, and Eastertide. With the popular collections At the Still Point: A Literary Guide to Prayer in Ordinary Time and Light Upon Light: A Literary Guide to Prayer for Advent, Christmas, and Epiphany, this third collection of daily and weekly readings from classic and contemporary literature completes the church calendar. New voices such as Chimamanda Ngozi Adichie and Benjamin Alire Sáenz join well-loved classics by Dostoevsky, Rossetti, and Eliot. Light in the darkness, illuminating the soul. Between Midnight and Dawn: A Literary Guide to Prayer for Lent, Holy Week, and Eastertide will use imagination to draw you deeper into God's presence. Read it through, then use it as a resource for years to come.
Available from Amazon here.
The Seven Last Words from the Cross, by Fleming Rutledge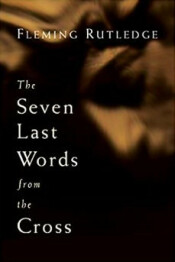 Fleming Rutledge presents seven meditations on the final sayings of Jesus. She links the sayings from the cross with contemporary events and concerns, but also incorporates recent biblical scholarship and modern questions about the death of Christ.
Available from Amazon here.
The 40 Days of Gratitude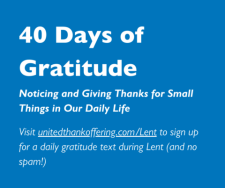 From the United Thank Offering: This Lenten season, the United Thank Offering is inviting you to 40 Days of Gratitude. Unlike seasons past, this year our gratitude challenge will be completely digital in the form of daily text messages. If you sign up for our challenge with your mobile number, you will receive one text message every morning for the entirety of Lent. Each day the text will be a different prompt, encouraging you to notice and be grateful for something in your daily life. This year's theme is Noticing and Giving Thanks for the Small Things in our Daily Life. Since we almost always have our phones close by, why not use it as a tool to practice gratitude?!
Lenten Meditations from Episcopal Relief & Development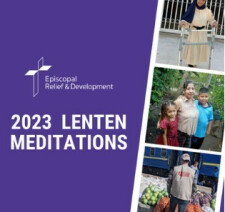 According to The Book of Common Prayer, Lent provides us with the opportunity for self-examination, repentance, prayer, fasting and self-denial; and to read and meditate on God's holy word (BCP, p. 265).
This Lenten Season, Episcopal Relief & Development invites you to join us as we meditate on the commandment to love our neighbor and consider the meaning of this fundamental instruction in our daily lives.
Join us on your Lenten journey. You can sign up to receive a meditation in your inbox each day, read the meditations online by visiting the links on this page, or download all the meditations to read and share. May God richly bless you this Lenten season.
Weekly Bulletin Inserts for Lent from The Episcopal Church
The journey through Lent into Easter is a journey with Jesus. We are baptized into his life, self-giving, and death; then, we rise in hope to life transformed. This Lent, communities are invited to walk with Jesus in his Way of Love and into the experience of transformed life. Together, we will reflect anew on the loving actions of God as recounted in the Easter Vigil readings. Together, we will walk through the depths of salvation history into the fullness of redemption.
Throughout Lent, come along with us as we explore Life Transformed: The Way of Love in Lent, produced by Hillary Raining and Jenifer Gamber. You can find resources mentioned below at iam.ec/lifetransformed or by scanning the QR code to the right, or by clicking here.
Lent Madness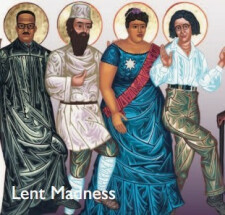 During the season of Lent, you are all invited to participate in "Lent Madness!" An outgrowth of March Madness, the "unique Lenten devotion" features 32 saints entered into an elimination bracket. Participants learn about two saints per day and vote on their favorite, and the bracket then moves from the "round of 32" to the "saintly 16," "elate 8," and "faithful 4." The winner is awarded the "Golden Halo." You have the option of printing out and filling in your own bracket here.
Here's the homepage link. There's a full explanation of what Lent Madness is here.
In order to participate in Lent Madness, you need to subscribe, via this same page; enter your email address on the right-hand side of the "Home" page.
Tens of thousands of Episcopalians and friends subscribe to Lent Madness every year and vote for their favorite saints. Along the way, there is a lot of teaching about the saints in a unique and fun way. Hope you will sign on and begin to fill out your bracket!