As Holy Spirit Episcopal Church remains closed due to the coronavirus outbreak, we invite you to join our online services.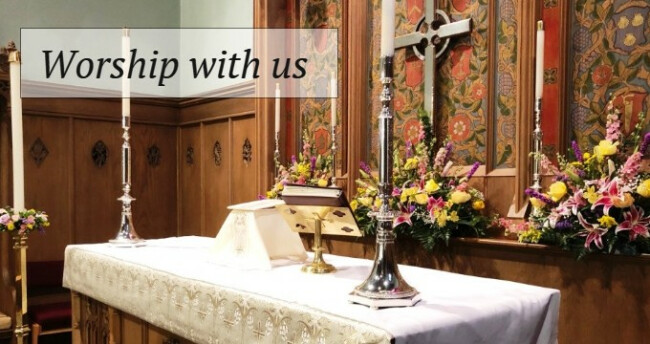 Sunday Worship
During this time of uncertainty, we continue to offer our main Sunday service online.
Access your Sunday morning virtual worship earlier if you like! In response to requests we are making a slight change. The premiere showing of our worship service will be available at 8:00 am. You can find the link in the Spirited Times and our website. Of course, you can also watch it at 10:15 or any time later, as it fits with your schedule. You will still receive the worship reminders with the link for watching at 10:15, but know you are welcome to get an earlier start on your Sunday with a cup of coffee and 8 am worship. Then you're free to get in a morning walk or bike ride before the day heats up. It's the same worship service, just available for you to watch at an earlier hour if you choose. We'll continue to offer virtual coffee hour at 11:30.
Watch on the church YouTube page here.
Read the service leaflet for Sunday, September 20
Watch the Sunday, September 20 service (direct link)
---
Worship services
Holy Spirit Episcopal Church is a Eucharistic community: our common life of fellowship, prayer, and service is grounded in the weekly communal celebration of the sacrament of bread and wine. The word "Eucharist" means "to give thanks." We gather at the altar to give thanks to God for the blessings of this life, especially for the gift of love given to us in Jesus Christ our Lord.
Sunday morning – 8:00 a.m. Holy Eucharist
A simple celebration of the Eucharist using Rite I from the Book of Common Prayer. A quiet and reflective service, with no music and a sermon, lasting about an hour.
Sunday morning – 10:15 a.m. Holy Eucharist
Approximately an hour and fifteen minute long service designed specifically to be accessible to adults and children of all ages and those new to church, with a sermon and organ-accompanied congregational singing, also with our full choir from September - May. Meet the worshippers and enjoy coffee and refreshments after the service in the parish hall (or in the courtyard, weather permitting, in the summer). Nursery care is available (ages infant - 3 years). Church School for ages Preschool through 9th grade is offered during the service, September - May. Ask an usher if you need directions for the nursery or Church School.
Sunday Evening - 8 p.m. Compline
First Sunday of the month, October - June
Darkened and candlelit, our church is the ideal environment for this chant-based evening prayer service featuring members of the Holy Spirit Choir. These are the church's bedtime prayers, and they mark that transition from day into night. We pray Compline on Sunday evening as a transition before the beginning of the week, as a way to reflect, renew, and refresh.
Listen to the close of Compline.
---
Altar Flowers
Flower donations are always welcome. You can donate to the altar flowers by calling Lani Brewer, or the church office at 542-2167. A minimum donation of $30 is requested. Flowers can be given in honor of or in memory of loved ones, or in thanksgiving for a special event in your life. Please let us know and the dedication will be printed in the Sunday bulletin.