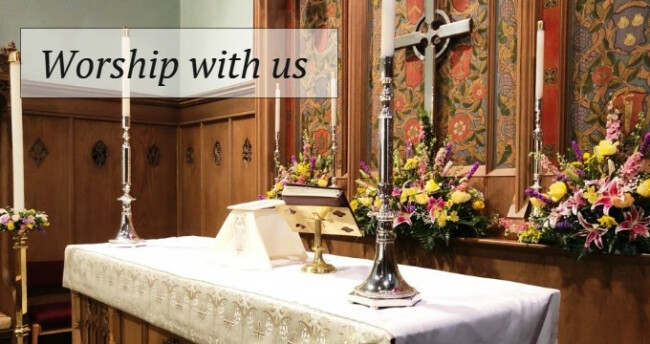 Sunday Worship
Read the service leaflet for the Sunday, August 7, in-person service at 9 a.m. with Holy Communion
The service will not be livestreamed this Sunday, August 7
Read the service leaflet for the Sunday, July 31, in-person service at 9 a.m. with Holy Communion
Watch the liveestreamed service on Sunday, July 31, beginning at 9 a.m.
Watch recorded services on the church YouTube page here.
Permission to reprint, podcast, and/or stream the music in this service obtained from ONE LICENSE with license #A-735459. All rights reserved.
Summer Worship Schedule
Our summer worship schedule begins June 12 and goes through September 4. There will be one in-person service with Eucharist on Sundays at 9 a.m. This service will be livestreamed on YouTube at 9 a.m. most Sundays.

Here is what to expect at the 9:00 a.m. in-person service:
Worship will begin at 9:00 a.m. on Sundays during the summer, June 12 - September 4).
The wearing of masks will always be supported if an individual chooses to wear one, whatever the reason, but the decision for now will be entirely with the individual until further notice. This includes singing in worship. You decide when and where to wear a mask or not in our church buildings until such time as masks may be needed again due to spikes in COVID cases.
Signing in as you come to worship will no longer be required.
The Offering will be received in the large plate as you enter the church, no passing of the plates.
We encourage the use of a phone or tablet to follow along in the Service Leaflet as part of our stewardship of Creation. Paper copies will be available for those who need them.
Communion will be received at the front of the center aisle. The chalice with consecrated wine will return with specific protocols: the Deacon or Chalice Bearer and Celebrant will be masked. The Celebrant will dip the consecrated bread into the wine and will place it in the outstretched hand(s) of those receiving. You may of course receive the bread alone if you prefer.
Thank you for your on-going patience and understanding as we try to relax requirements when it seems appropriate and be welcoming to all.
These protocols may be changed on short notice depending on the rise and fall of Covid 19 cases.
This service will be livestreamed. Just click the link under "Sunday Worship" at the top of this page to be connected to the service, beginning at 9 a.m.
Can't watch at that time? Don't worry! The services are archived and available on the church YouTube page here.
Faithfully with you on the way!
Terri+
Read the most recent Note from the Rector
Read about Children and Worship
Summer Worship Schedule begins after Pentecost Sunday
From June 12 through September 4 our in-person worship service will be at 9 a.m. Please note the earlier time which will allow you to have more of your Sunday free.
Altar Flowers
Flower donations are always welcome. You can donate to the altar flowers by calling Lani Brewer, or the church office at 542-2167. A minimum donation of $30 is requested. Flowers can be given in honor of or in memory of loved ones, or in thanksgiving for a special event in your life. Please let us know and the dedication will be printed in the Sunday bulletin.