Check our calendar for our current book study groups -- click on the ones that interest you for contact information and information about how to order the books. For an overview, see below.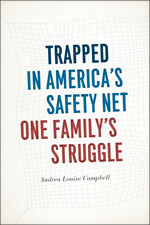 Have you wondered why poverty persists despite all the government "benefit" programs? Have you been in desperate need or worked with poor people only to find you are confused, frustrated, overwhelmed and perhaps ultimately hopeless about getting help? Are you facing impossible costs of long-term care for yourself or a family member? Social policy analyst Andrea Louise Campbell writes of her awakening, when tragedy struck her own family, to the hard facts of life for those in need of help in our society. She describes how and why our social assistance programs developed in such a way that they discourage rather than facilitate access and close off opportunity. As people of faith charged with serving the poor we may feel helpless in the face of overwhelming need. Whether you are working actively in the community or simply wish to increase your understanding of the dilemmas that you and others face, you are invited to join in a book study and discussion of Trapped in America's Safety Net. Facilitated by Margaret Watson, the group will meet to share experiences and reflections on five Thursday evenings, from April 20 through May 18, 7-8:30 p.m.
Order a book online or purchase at the local bookstore. It may be checked out through Missoula Public Library. If you have questions, please contact Margaret Watson through the church office, 542-2167.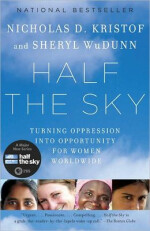 There are now copies of Half the Sky, by Nicholas Kristof and Sheryl WuDunn in the Church office for any parishioner to borrow, as well as one copy of the PBS video Half the Sky, that amplifies the book's ideas. If you didn't have a chance to join one of our book studies on this important book, now you can read it on your own. It's impossible to praise it too much as an indispensable education on poor women's plight in Sub-Saharan Africa, India, Southeast Asia, and the Middle East, how best to help them, and the inspiring leaders working to do so.