9 am Inquirers Class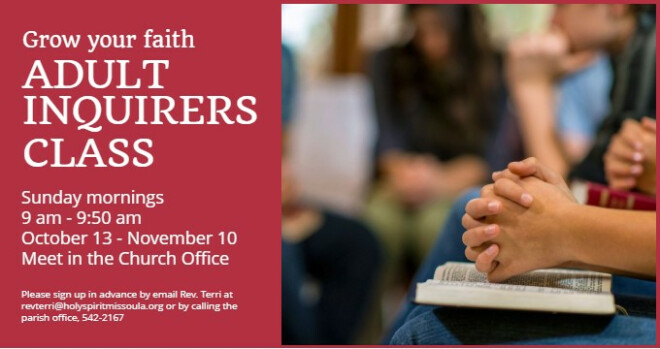 Every Sunday, from 10/13/2019 to 11/10/2019, 9:00 AM - 9:50 AM
Learn more about the Episcopal Church at our Inquirers Class
Want to know more about the Episcopal Church? Have you been attending here and wondering about becoming a member? Do you have questions about why we do what we do, how we live out our spirituality, or any number of other things you may be thinking about as you experience this parish – then this is the class for you!
Brand new or several months or years into your journey here, I invite you to join me between services from 9 a.m. to 9:50 a.m. on Oct. 13, 20, 27, and Nov. 3 and Nov. 10 (if needed) in the church office conference room for what is always a lively discussion. We will use a small but enlightening book entitled, "A People Called Episcopalians – A brief introduction to our way of life," by John H. Westerhoff with Sharon Ely Pearson.
Please sign up in advance by emailing me at or calling the Parish Office at 542-2167 so that we will know how many books to order. If for any reason you cannot attend during the time and dates of this class, please let me know of your interest so that I could offer another class at a different time or day.
I look forward to meeting with you!
– Rev. Terri