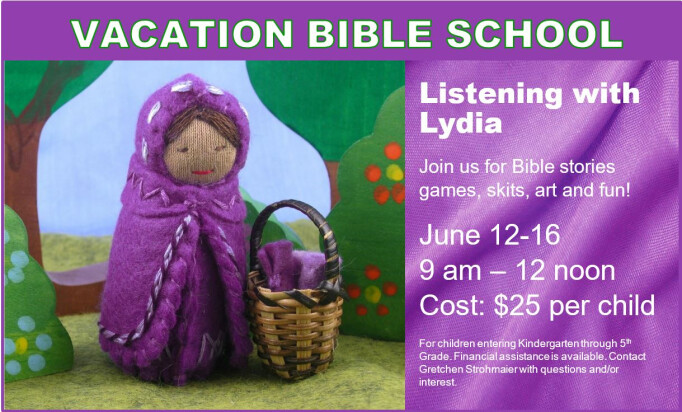 9 am Vacation Bible School
Daily, from 06/12/2017 to 06/16/2017, 9:00 AM - 12:00 PM
| | |
| --- | --- |
| Contact: | Gretchen Strohmaier |
Vacation Bible School 2017:
Listening with Lydia, June 12-16
Join other children from our parish and our community as we spend a week together learning about Lydia. We hear about her in Acts 16. Together we'll explore Paul's missionary journey, we'll learn about Lydia as a leader in her community and as a business woman. She was a seller of fine purple cloth. We'll follow her journey as she gathers with other women to pray and as God opens her heart so she can eagerly listen. As we follow her story we'll learn about baptism, prayer and service.
The week will be full of games, skits, crafts and LOTS OF PURPLE. On Friday, we'll wrap the week up with a giant inflatable slide out in the courtyard. Friday evening we'll have a church-wide picnic potluck to celebrate the week (and get a few more trips down the slide).
VBS runs Monday through Friday, 9 a.m. to noon, for children entering K through 5th grade. Registration fee is $25. Plan now for your children to join us for Bible stories, games, skits, art and fun!
Registration form: Word PDF
Contact Gretchen at .