Diocese of Montana Newsletter, August 2018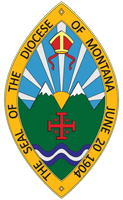 Bishop's Corner
The Rev. Reagan Gonzalez will be ordained as priest on August 10, 2018 at St. Matthew's Episcopal Church, Lincoln, NE by Bishop Barker. Your prayers are requested.

The Rev. Carolyn Rosen will be ordained as priest on September 23, 2018 at 4:30 p.m. at St. Stephen's in Billings. Your prayers and presence are requested.
2018 Diocesan Convention - October 5th-7th at St. Andrew's in Polson. The convention will be held at the Kwa Taq Nuk Resort/Casino. Click here for more information and to reserve your room. Registration is now open!! Click here to register!
Click here to read the complete newsletter, including the following:
Bishop's Corner
Around the Diocese: Tuttle Commemoration
Finance Corner, by Barb Hagen: Mentors
All-Day Workshop in Accompaniment and Hymn Singing, August 18 at St. James', Bozeman
Invitation of the Spirit: Yesterday and Today - a Contemplative Retreat, Sept. 4 at Camp Marshall
Episcopal Relief & Development
Update on the Bishop Search
Wanted: Full-Time Christian Education Director, St. James', Bozeman
Seeking Music Director/Organist: St. Peter's Cathedral, Helena
Faith, Science & Climate Action Conference 2018, Oct. 12-13 in Bozeman
Camp Marshall News