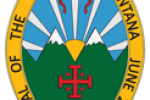 Diocese of Montana Newsletter, September 2017
Bishop's Corner
On July 31, 2017, The Rev. Keith Axberg retired. He has served Trinity, Ennis/Jeffers & St. Paul's, Virginia City as Rector for just over 5 years. Well done, good & faithful servant!

We welcome Rev. Kristin Orr. She will be the new rector for St. Andrew's, Livingston & St. John's, Emigrant. Her official start date is September 1, 2017.

Diocesan Convention – October 6-8, 2017 in Helena at St. Peter's Cathedral. Please click here to register for convention and hotel accommodations. Deadline is September 15, 2017. Please consider booking your hotel rooms as soon as you can as Carroll College's homecoming is the same weekend!

At Convention, there will be an election for the following positions:

Diocesan Secretary
Diocesan Treasurer
Diocesan Council ( 2 Clerics & 2 Laypeople)
Standing Committee (1 Cleric & 1 Layperson)
Foundation Board (2 Clerics)

Click here for a nomination form (you may nominate yourself), to read bios of nominees and to see a description of duties and responsibilities of the various positions.

Our annual clergy conference will take place April 17-19, 2018, at Camp Marshall. The Rev. Dennis Mayard, author of "When Sheep Attack" and Those Episcopals" will be the presenter. His topic will be: Dealing with Difficult People."
Click here to read the complete newsletter, including the following:
Around the Diocese: Update on the search for the Tenth Bishop of Montana
September: Disaster Preparedness Month
Our Wider Church. . . The Episcopacy
Holy Cross, Life-Giving Tree
Construction has Begun at Camp Marshall
MSU Billings - United Campus Ministry
Episcopal Relief & Development
Finance Corner by Barb Hagen
Ecumenical: Episcopal Migration Ministries