Winter Newsletter from Emmaus Campus Ministry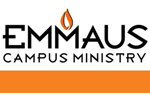 Emmaus Campus Ministry: Living Faith Through Community, Dialogue & Service.
The December 2014 Quarterly Newsletter.
In This Issue:
Advent Abundance
Winter & Spring Programs
Friends in Need News
House Improvements
Welcome, Rebekah
Reflection on Emmaus
Congratulations Graduates
Student Perspective
Fall Fundraising Updates
Upcoming Events at a Glance
Winter Book Study
All are welcome to join in our reading of "An Alter in the World" by Barbara Brown Taylor. Discussions will be January 8, 14 and 21.
Winter Retreat
February 27-March 1 we will venture to Georgetown Lake and Discovery Ski Area for skiing, sledding, games, discussions, food and fun.
Spring Break in Portland, Oregon
Service projects, learning, exploring, diversity, culture, worship, and God: All students and young adults are welcome to join us.
Click here to continue reading the Emmaus Campus Ministry Newsletter.