A Note from the Rector, August 2020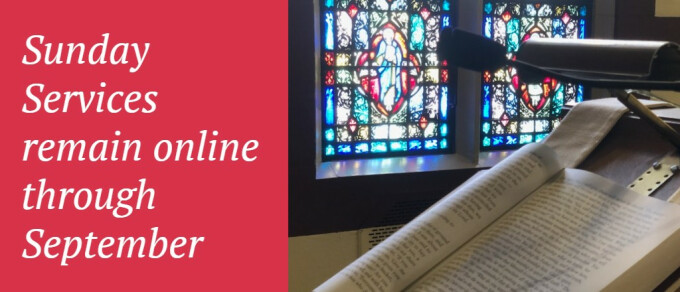 A Note from the Rector, August 2020
Update from the Rector regarding our response to COVID-19:
The Hebrew Scriptures are about individuals in relationship with God, yes, but even more about a community in relationship with God. The Israelites were more than once tempted to go back to what they knew before the Exodus instead of what God would lead them to after a time, back to what they knew (slavery) over the uncertainty in which they walked (the wilderness), and their calling to rely on God to be faithful to them in the midst of a long, hard journey.
What has this to do with our present day, living with the uncertainties of a virus we cannot see around us, that we cannot begin to address without a communal commitment to do so? I think of these stories when I hear us yearn to return to worship in the church buildings, thinking of what was, not of the reality, the uncertainty we are in now or that lies ahead. We yearn for certainty and safety, for things to be as they were. We find our kin in the Israelites wandering in the wilderness, tempted to take the risk of returning to Egypt as opposed to trusting God to lead us and transform us for what lies ahead, something yet to be revealed. Do we trust God's love as we say we do? Will we walk through these COVID-19 times together, with God in Christ? Will we acknowledge the challenges and limitations of being the finite creatures we are and allow ourselves to be led, and to be transformed by our wanderings? Will we remember to trust God's love made manifest in Jesus, the one who lived in the midst of hardship and even death that we would know the depth of God's love for us, and for all, in his Resurrection to new life? I wonder…
I know that we all want to return to something tangibly normal. I also believe that we have some more wandering to do and that we need to continue to trust the One we say we follow as opposed to trying to go back to worship in the church buildings which is a risk we don't have to take. This is a communal sacrifice and it is hard. With shorter days and longer nights ahead, flu season and winter coming on top of everything else, returning to the church building for worship in these times feels like returning to Egypt, giving the virus an opportunity when we do not have to do so. Instead, I am asking all of us to share the burden of wandering in this present wilderness, masks on, physically distanced away from our regular gathering place, together as a community of faith trusting our relationship with God.
We will continue to worship in a virtual, online way, through at least September and as long as seems necessary. We will wander in these times together, one body in Christ, a light shining in the darkness, ministering to those in need in with love, justice, and hope in whatever ways we are able. I know that there is a weariness setting in now that we realize this virus is not going away anytime soon. Remember that God is with us, the Spirit guiding and Christ in every part of ordinary life. Notice what is most important and treasure it. Tell your loved ones what they mean to you. And may the blessing of God make us patient and persistent, creative, and willing to make mistakes, and above all cause us to love where we thought it wasn't possible.
Faithfully with you on the journey,
Terri+